Cool. Transparent. Vigorous. The Modernist is not just your everyday office space. The Modernist elevates, creates room for thought, speaks out without shouting.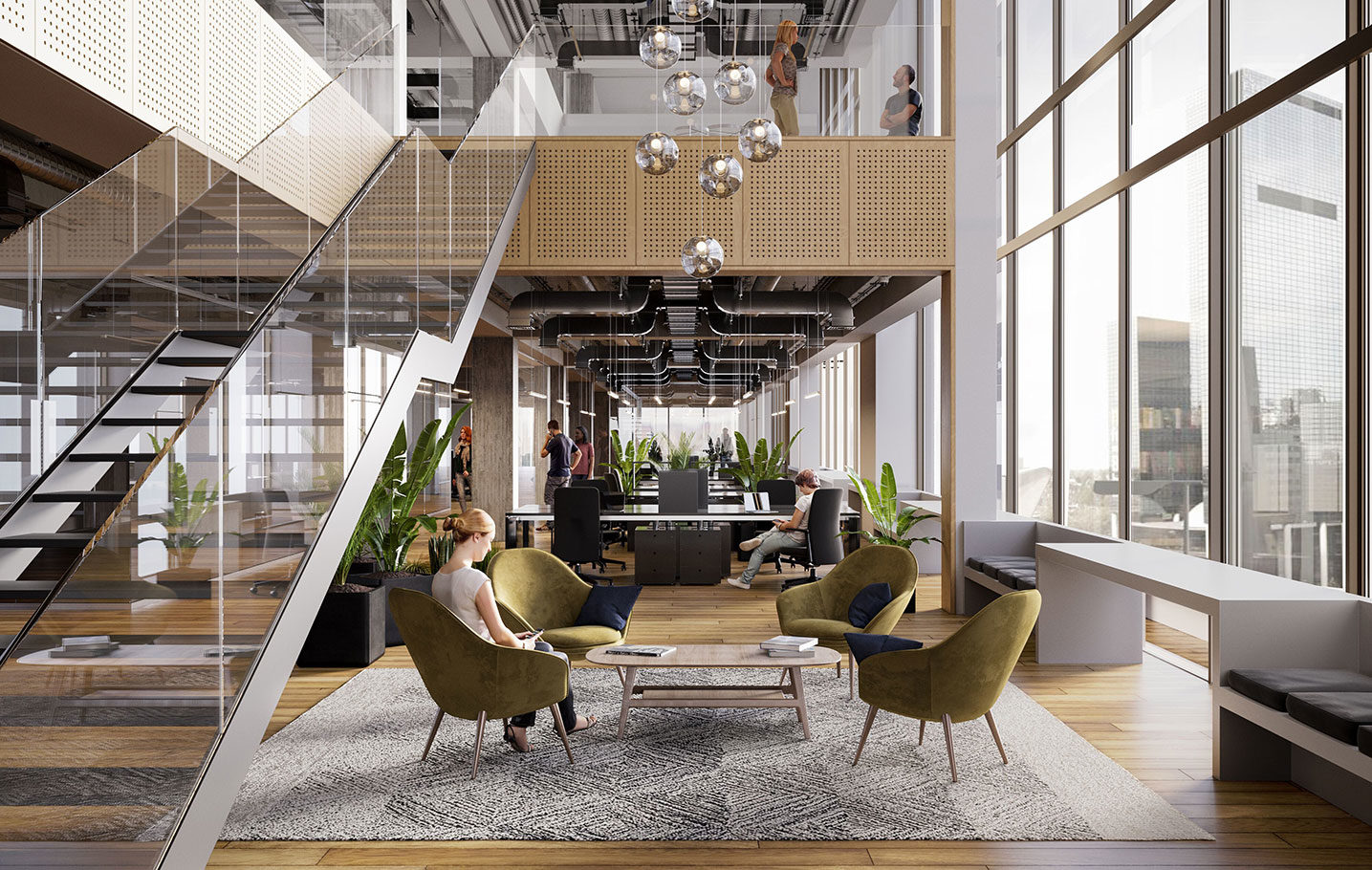 Working on higher ground
The office framework of The Modernist comprises four layers, each with a lettable floor area of up to 3,000m². Even for Rotterdam, these kind of surface areas are unique, particularly in such a centrally positioned location.  In fact, none exist elsewhere in the city either. The generous floor concept is complemented by high ceilings, thereby creating sufficient space for atria. In any case, almost any idea can be achieved or wish fulfilled, from a large-scale, loft-like work environment to a traditional room layout. 
The concept of The Modernist is exciting. It is a fusion of different layers and dimensions into a congruent, seductive whole. The tiered construction consists of a low-rise section upon a plinth and a high-rise section with two residential towers overlooking the city.
The Modernist offers large, light, clear workspaces that let you gaze upon the city from all sides. Atria can be created at any height within these, for example to allow for indoor landscaping. Such atria can visually connect the various floors, make a positive contribution to air quality and improve energy performance.
Thanks to the generous use of glass, The Modernist is incredibly transparent. The extra-wide framework of the office layers, surpassed only by the extreme framework of the mixed zone in the plinth, bring the outside world in while also conveying a great feeling of spaciousness.
read more
Floorplans
The floors of The Modernist may be laid out as a completely open, loft-like environment, or partitioned to provide fully enclosed rooms. Whichever option you choose, the floors offer a capacity of over 100 workspaces, in addition to all the space you need for meeting and facility rooms.
2021 - 2026
Project Forecast
Q2 2022:

Building permit is irrevocable

Q4 2022:

Groundwork

To be determined:

Completion
Q4 2022:

Groundwork

To be determined:

Completion